What to see in the Nile Valley
General tips for sightseeing in Luxor: Because there are endless sights to visit in Luxor, make sure you limit yourself to two or three major sights per day, and avoid post mid-day heat, by either visiting areas early in the day, or late in the afternoons. Make sure you always carry plenty of water to keep you going through the day's heat.
Luxor Temple: Walking in an unforgettable, Grand Avenue of Sphinx leads you to the breathtaking façade of Luxor's temple: your gateway to an elegant example of Pharaonic architecture. Dedicated to the worshipped Theban triad of Amun- the principle God of Thebes, his wife Mut, and son Khonsu- the temple was completed by the 18th dynasty pharaoh Amenhotep III, with a main intent of practicing the most important ancient ritual "Opet". * During the flood season, the King's re-birth, as the son of Amun was celebrated, by carrying Theban triad's images on magnificent barques to the Nile, then to Luxor temple.
Recommended: Visit Luxor on November 4th, as the city stages a breathtaking recreation of the festival for tourists every year.
Karnak Temple: Karnak Temple is the most important Pharaonic site after the great Pyramids of Giza. As ongoing excavations, continue to reveal an extraordinary array of temples, chapels and obelisks, not only testifying the importance of Thebes, but also making it an essential tourist stop.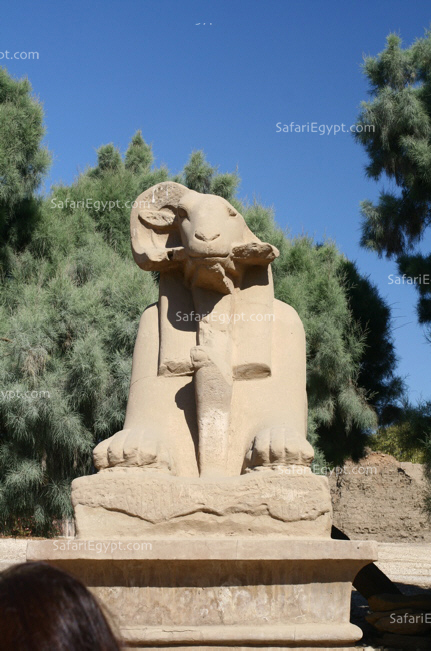 (Great Court, Karnak Temple in Luxor, Egypt)
Amun Temple: At the heart of Karnak complex, lies the Temple of Amun; the King of Gods. With a gigantic colossus of Ramses II, a spacious hypostyle hall, and a tranquil sacred lake, where priests used to purify themselves in its holy water, an exceptional ambience is formed, captivating visitors from all over the world. It is highly recommended to re-visit the site at night to attend its spectacular Sound and Light show, unraveling 1500 years of history. Check with Luxor's tourist office for details, and availability of languages.
Fun Tip: It is believed that turning around the statue of Scarab beetle in the temple, can help you realize any personal dream.
Valley of the Kings: Directed by a strong belief in the afterlife, Theban Pharaohs dug their tombs deep into the Theban hills along with their priceless possessions, to keep away robbers. Sadly, burial chambers were raided, yet the magnificent structures remain with symbolic representations, and paintings of the underworld.
Recommended: Do not miss buying a separate ticket to enter Tutankhamun's tomb, discovered in 1922 by Howard Carter, as glorious treasures are still intact, and the King's body is still inside the gilded coffin.
continue reading about Luxor <<previous (1 - 2 - 3) next>>